Kathy Baur
Kathy Baur had been working in the medical world for 30 years when she decided to finally address her creative urges. She had visited a friend who had built an Earth-ship by herself. Kathy was inspired. Kathy discovered herself, tapping all her physical strength and finding very deep soulful resources, learning what passion was all about.
Kathy's experiences are reflected in her art today, including sculptures of various forms, bowls and shaman figures from clay, triptychs of on sandstone. She feels there is no higher honor than a person choosing her art for their collection. "I feel my spirit enters their home with the work and it will protect them."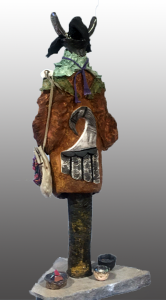 Raven's Alchemy 31″x 14″ ceramic on a cryal travertine base.
Fremont Triptych – Ceramic on Stone
About 36″ x 30 mounted space
Prices Available on the On-Line Store